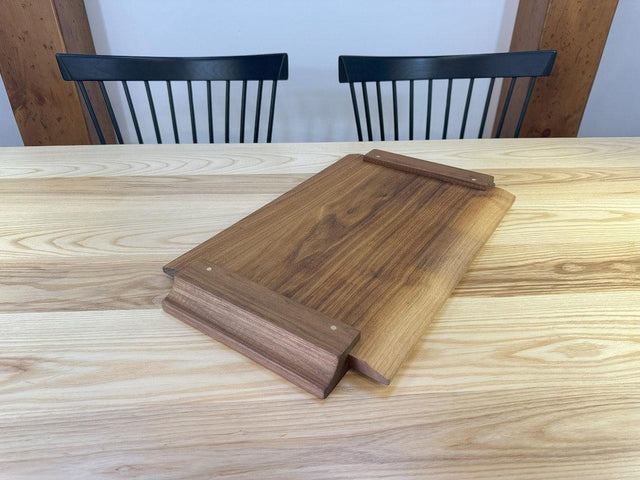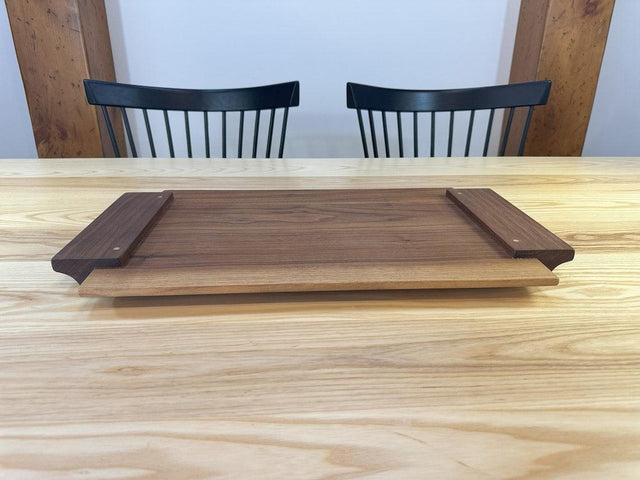 Crafted of sustainably harvested Canadian hardwood, our SmallCraft Serving Trays are the best example of time-honoured woodworking techniques that made Windsor Workshop one of the most trusted names in the Canadian fine custom furniture and Windsor Chair industry.
Our Serving Tray features a hardwood tray, as pictured, joined by cove-cut handles. This stylish handle is secured to the tray with two wooden pins and designed to comfortably fit in the hands of the carrier while lifting the tray above the surface in an aesthetically pleasing way that is beautiful and practical.

Our handmade Butcher Block, Cutting, Carving, Serving, Japanise Ki and Chaquterie boards are pieces of functional art that transcend practicality. Cared for properly, they can be centrepieces that last decades.

Features:

Wood's natural antibacterial properties make it a hygienic choice over plastic.

Easy to care for and maintain

Food-safe, suitable for home or commercial use

One of a kind, each piece has colour and grain variations

Handcrafted in Ontario, Canada, from ethically sourced hardwood
We take pride in preserving the innate beauty and character of our wood, celebrating its natural imperfections that enhance both its function and form; we do not overly refine our boards. Every board is a unique creation, crafted from 100% surplus materials left over from the construction of our heirloom furniture. We exclusively use domestic hardwoods, ensuring we make the most of available resources.

Sustainability
Our team of craftspeople donate their labour to create our SmallCraft collection. We carry that forward by donating 100% of your SmallCraft purchase to our sustainability project aimed at improving our green practices and supporting our Windsor Tree Program.

Dimensions
20"L Board (23.5" including handle) x 14"W x .7" Tray Thickness + Handle

Due to the custom nature of our handmade boards, there may be some variances in the dimensions and the colour, as may be shown on your screen.
Shipping
As all of our furniture is handmade to order, you can expect a 3-5 week lead time.
Care Instructions
Dust regularly with a soft, lint-free cloth. Use a mild soap solution for stubborn dirt, wiping gently along the wood grain.
Avoid harsh chemicals, ammonia-based cleaners, and excess water. Dry immediately with a clean, dry cloth after cleaning.